About Statewide Drilling
Statewide Drilling Pty Ltd is a well-established company which resulted from the 1995 merger of Vic Drill and Statewide Geotechnical Services.
Through retention of experienced staff and on-going upgrading of qualifications and equipment, we offer a comprehensive drilling service aimed at servicing Mining, Quarry, Geotechnical and Environmental clients.
We own and operate a variety of industry recognised rigs (both multipurpose and specialised) by manufacturers including Ausroc, Comacchio, Geoprobe, Mobile and EVH. Custom build "tight and restricted access" Dingo mounted rigs are also utilized.
Semi-trailer and flat top carriers allow us to be highly mobile throughout the central and eastern states.
Safety is of paramount importance in all of our operations.  Our Safety Management System is accredited with both Damstra and Browse.  Site and project specific Safety Management Plans are generated for individual drilling projects.
Geotechnical Engineering Consulting Services are handled by our 'sister' company Statewide Geotechnical (Aust) Pty Ltd.  See the Geotechnical Consulting page for more details.
Statewide Drilling maintain comprehensive insurance cover including:
Public Liability $20m
Casualty & Sundry $10m
Vehicle Fleet
WorkCover
Service Sectors
VIC, SA, NSW, QLD, TAS
Extractive Industry
Mineral Exploration
VIC, NSW, SA
Environmental
Geotechnical
Director's Message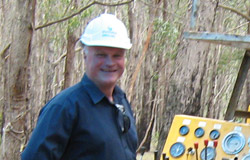 We are proud of our company which has operated successfully for 20 years in which can be, at times, a tough industry.
Significant expansion has occurred during this time, but we have not forgotten our core values of providing reliable, cost effective and safe service to our valued customer base.
We would be pleased to assist you with your drilling requirements, however big or small.
David Alkemade